So at first I was a limited user, but my user type was changed to "System Administrator." However, I still have limited access to the system. Help! What do I do?
If you change someone to be a system administrator after you manually edit the user permissions, it will not default the user permissions to be at an admin level. Another System Administrator needs to go to your User Permissions and manually place checks in the appropriate areas that you require access to.
Alternatively, you can set a user's default permissions with the Set User Default field. To do this, please perform the following steps:
Top right, click your name and select My Profile
Click on the User Permissions tab.
Pull down the Set User Default to choose System Admin (Super User)
Press the Save Changes button.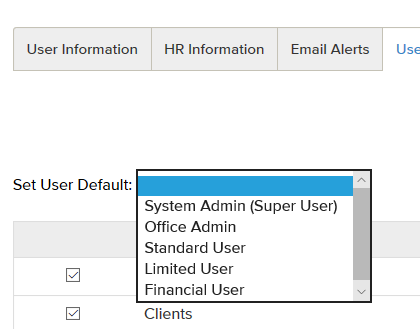 After that change has been done, make sure you log out and log back in to see the changes.