All web browsers have a cache in them to store data used to quickly load frequently visited pages.  However, the cache does not always work to your advantage especially when web pages have been updated and your web browser's cache is trying to recall the web page's information from a cache directory.  You may experience slow loading or incomplete pages with outdated cache data. Keeping your web browser current with the most recent version will load pages faster and help with online security. 


Please note that if you are on a PC, clicking Ctrl + Shift + Delete on your keyboard will bring up your browsing history to adjust as needed.
How Do I Clear the Cache in My Internet Explorer Browser?
1.    While in your browser, on the very right-hand side of the browser, click on the gear icon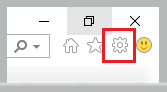 2. Highlight over Safety, and then click Delete browsing history…
Note: If you have the Menu bar enabled or are in an older version of IE, you can instead click Tools and then Delete browsing history….
2.    In the Delete Browsing History window that appears, uncheck all options except the one labeled Temporary Internet files and website files.
3.    Click the Delete button.
4.    The Delete Browsing History window will disappear and you may notice your mouse icon go busy for a few moments.
As soon as your cursor returns to normal, or you notice the "finshed deleting" message at the bottom of the screen, consider your temporary Internet files deleted.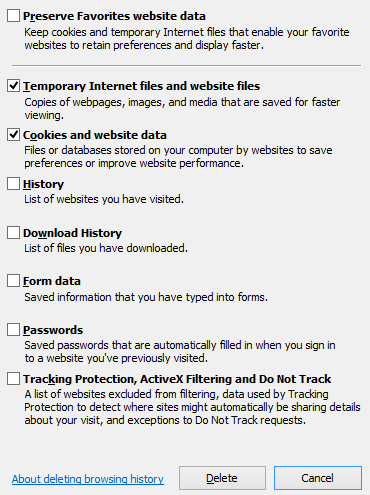 How Do I Clear the Cache in My Google Chrome Browser?
1.    Click the Chrome menu on the browser toolbar.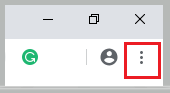 2.    Highlight over History and then on the fly-out window click History.
3.    Select Clear browsing data on the left hand side.
4.    In the dialog that appears, select the check-boxes for the types of information that you want to remove.
5.    Use the menu at the top to select "the beginning of time" to delete all cache and cookies.
6.    Click Clear browsing data.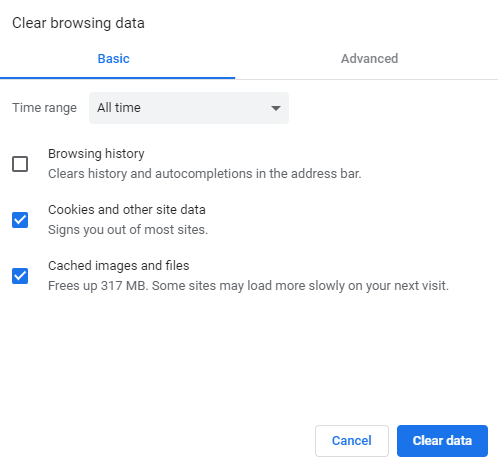 How Do I Clear the Cache in My Firefox Browser?
Click the menu button and choose Options. 
Click on Options, then Privacy & Security
Under the History section, click the blue link that says "Remove Individual Cookies"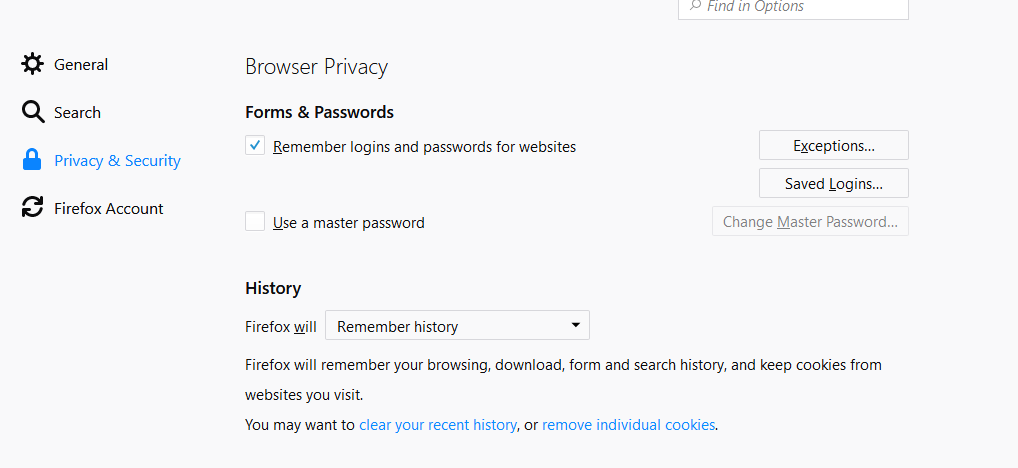 4. Then click "Remove All"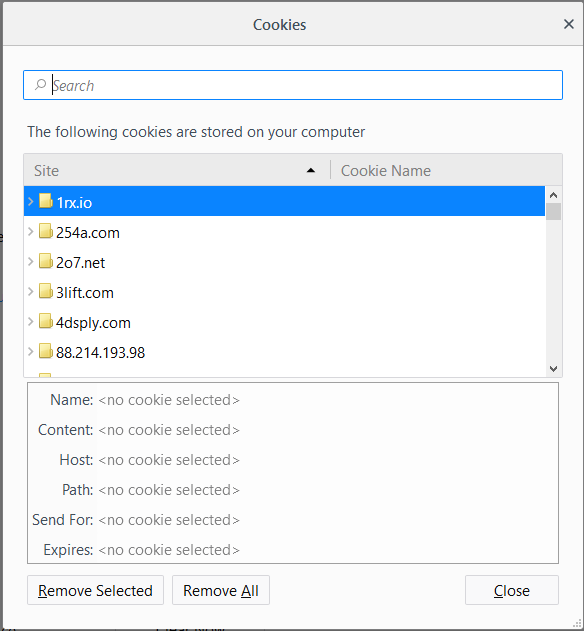 How Do I Clear the Cache in My Safari Browser?
Click Safari in the upper left hand side of your screen. In the menu that appears, click Preferences.





In the window that appears, click the Privacy tab. Click the button Remove All Website Data....





Click Remove Now in the pop up window that appears.


How Do I Clear the Cache in Microsoft Edge?
Click the menu button and choose Settings 
Under Clear Browsing Data, click "Choose what to Clear"
Only "Cookies and Saved Website Data" and Cached data and file" should be checked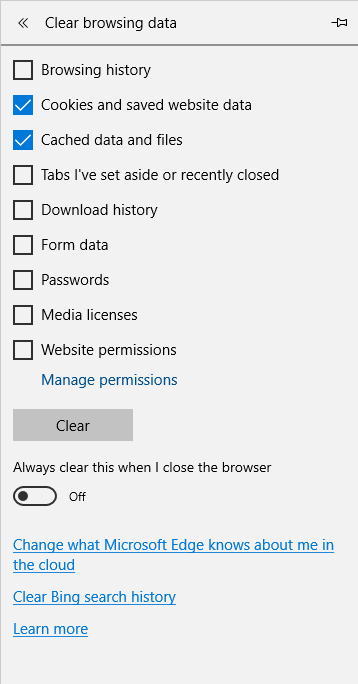 4. Then click the Clear button