If you have having trouble finding a particular invoice or an invoice batch, the suggestions below should help you find what you need.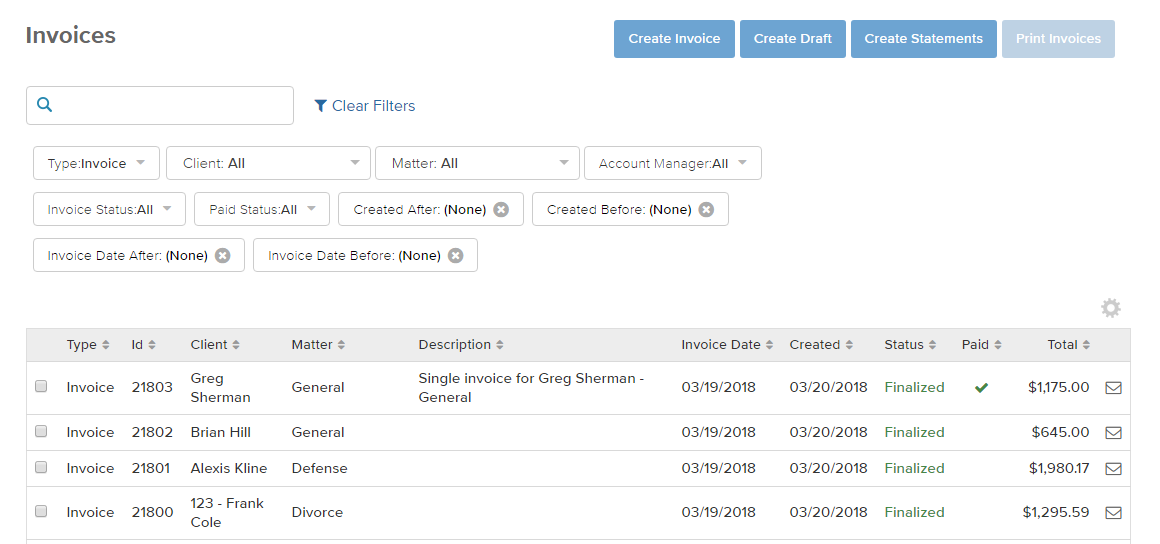 How to filter for individual invoices or invoice batches:

Click on Invoicing located on the navigation bar.
Click on Show Filters. 
Click on the Type filter to open the drop-down and select "Batch" or "Invoice" to update the data table. 
 How to filter for specific invoices:
Click on the Invoicing tab.
You can enter an invoice number, client name, project name, etc. in the new search bar to quickly pull up a list of invoices matching your search parameters.
Click on Show Filters for more advanced filter options and set the filters as needed for the invoice(s) you are searching for.
Click on Clear Filters to reset your Invoice Search.
How to modify the Invoice Search screen using the User specific columns options:
Click on the Invoicing tab.
Click on the Cog Wheel on the upper right corner of the tables.
Check the boxes next to the desired columns you want to appear on the screen.
Your table will adjust based on the columns you chose. 
How to print desired Batch/Invoice at once:
Click on the Invoicing tab.
Check the box located on the left side of the search result (our new icons will let you know at a quick glance if the line you are looking at is an invoice or batch).
Click on Print located in the upper right corner next to Create Statements.