The Firm Metrics Dashboard allows users to Add, Delete, and Rearrange the various cards in order to customize their dashboard to meet their needs.
Adding a Card:
To Add a card to your Metrics Dashboard, please click on the gear icon found in the top-right of your current dashboard.



Clicking on the gear icon will open a menu that shows your existing dashboard cards on the left-side panel, and the available cards to-be added on the right panel. You can add multiple versions of the same card. This is particularly useful when, for example, you are tracking the weekly hours of yourself and a colleague - each of you would have a version of this card configured to show your respective data.


Removing a Card:
Clicking on the gear icon will open a menu that displays your existing cards along the left-side panel. Clicking upon the trashcan icon to the right of any of the existing cards will remove it from your dashboard.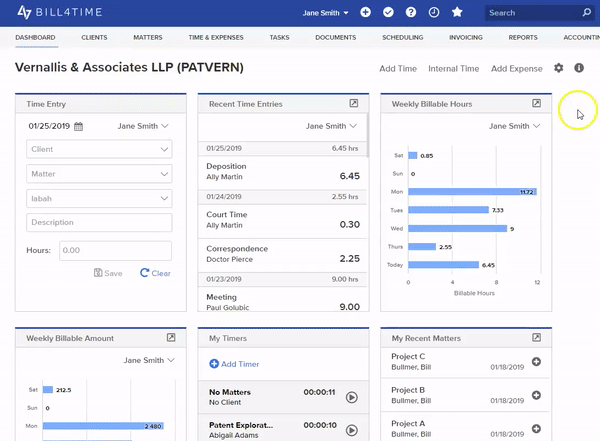 Moving a Dashboard Card:
The new Firm Metrics Dashboard features a drag-and-drop functionality that allows you to click and drag any card to rearrange its position. The cards are setup to follow a grid, so dragging a card to a different location will cause the other cards to adjust their position accordingly to make space for the new card.