EXPLANATION OF SCENARIO #3 RATE LOCKS (PROJECT LEVEL)
This rate lock applies to Projects. Any Project that was created on the requested date or before that date will be locked into the rate it had at the time of the lock. It is most used to lock in old rates on old Projects for Clients, so that the work you've done for them in the past stays at a lower rate while the work you are going to do for them in the future can be at your new rate.
There are many different situations that might lead to this kind of rate lock request. A few examples would be:
It's the end of the quarter and I'm wanting to lock in the rate of every Project so I can start charging a higher rate for the new quarter.


In this case you can request a Rate Lock for all of your Projects so that new Projects reflect your new rate.



I have current ongoing Projects for a Client that are at a contracted rate, but am planning on doing more Projects for them and would like to like to charge those at my new rate.


In this situation you can request this lock for all or for specific Projects under this Client.



I have a User who does administrative work on some Projects and is going to start doing paralegal work on others.


Here you can request a Rate Lock for specific Projects that the User will still be doing administrative work on so that other Projects receive their new paralegal rate.
Please Note: Rate Locks will not impact any entries that have already been overridden or are on a Finalized Invoice.
---
SUBMITTING A SCENARIO #3 RATE LOCK REQUEST
Any Rate Lock request must be sent to support@Bill4Time.com to be processed.
Please note: When submitting a Rate Lock request, please be sure to leave your account set to the old rate while we process this request. If any changes are made while the developers are locking your entries, it may cause your entries to be locked in at the incorrect rate.
A general request for a Scenario 3 Rate Lock to lock all entries should include the following information:
Company ID: 
Rate Lock Scenario #3 
Rate Lock for 00/00/2021 and before, so that new rates take effect as of 00/00/2021
If you are wanting to submit a request for specific Clients, Projects or Users then please include the applicable fields below (if you're wanting All Clients, All Projects or All Users then no need to include these fields):
Client Name: 
Client ID: 
Current Rate: 
Updated Rate: 


Matter Name: 
Matter ID: 
Current Rate: 
Updated Rate: 


User Name: 
Employee ID: 
Current Rate: 
Updated Rate: 
---
HOW TO PROCEED ONCE THE RATE LOCK IS COMPLETED
A member of our support team will notify you once your lock is completed. At that point, you will be safe to change your rates. If you need instructions for this process, please click here.
Every requested Project throughout the system that is dated before the change over date will show the locked in rate. If you navigate to the Project's page and click on the Billing Rates subtab you'll see the "Override Rate" column on the right has the "Override" checkmark next to it along with your requested rate lock amount.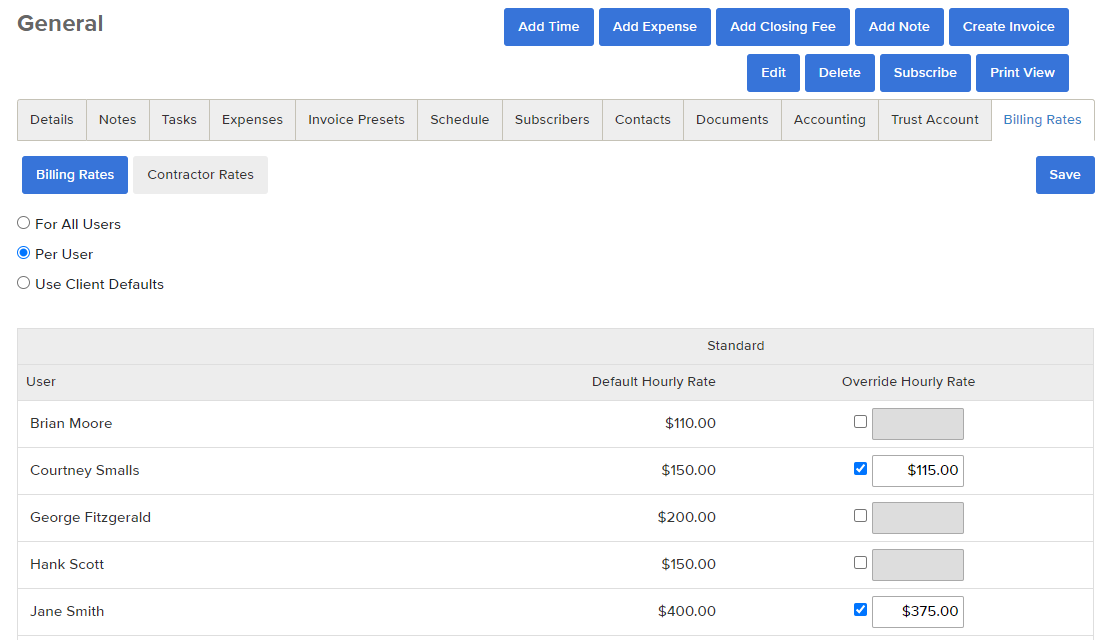 If you have any entries that were already billed and finalized at a different rate, the lock will not update them. If needed, you can always unfinalize those invoices once the lock is completed and your rates have been changed, to help pull in the updated rates.