The timer menu is available on every screen in Bill4Time. Look for the clock icon in the upper right corner. The Multi Timer is built into the program so you can start a timer and if the browser closes or computer shuts down, these timers will continue to run till they are paused or saved in the system.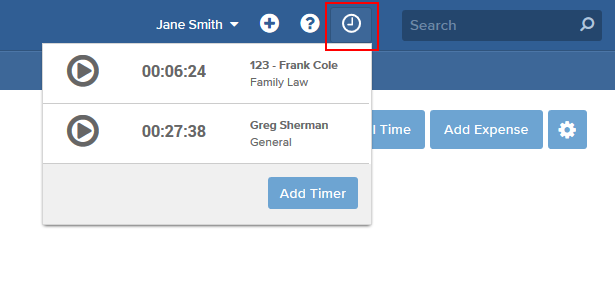 To Create a New Timer:
Click on the Timer icon
Click the Add Timer link

Enter any relevant information, all fields are optional

Click Save.
You will now see your timer running in the timer menu
To Pause and Resume a Timer:
Click on the Timer icon to open the timer menu
Click on the pause icon to the left of your active timer. To resume, click the play icon.
To Convert a Timer to a new Time Entry:
Click on the Timer icon to open the timer menu

Click on the details of the timer to open the timer window

Click the Convert to Time Entry button
Any information you added to the timer will translate to the new time entry screen. You can now add any additional information and click Save & Close.
Your timer is automatically removed from the timer menu and saved in the system.
*NOTE* If the timer does not pop up after you click "Convert to Time Entry" then your browser is blocking this pop up. Go ahead and allow for pop-ups in your browser settings and this will resolve the issue.