What is Multi-Factor Authentication and why is it important?
Multi-factor Authentication (MFA) is a security measure that requires users to identify themselves through two or more verification factors. In addition to a username and password, MFA may require users to enter a one-time passcode retrieved via an email address or a mobile number. MFA is a global setting that will apply to all users on the B4T account, but can only be enabled by admin level users.
While usernames and passwords play an important role in protecting your account security, they are vulnerable to brute force attacks and can be stolen by third parties. MFA prevents bad actors from accessing your account even if your username and/or password have been compromised.
How do I enable Multi-Factor Authentication for my firm?
Enabling MFA in Bill4Time is simple, and can be done by any user with access to firm-wide settings in Bill4Time (e.g. a firm administrator). To enable, follow the steps below:
Open firm-wide System Settings (Your Name > Settings). Navigate to the System tab

Click "Enable Now"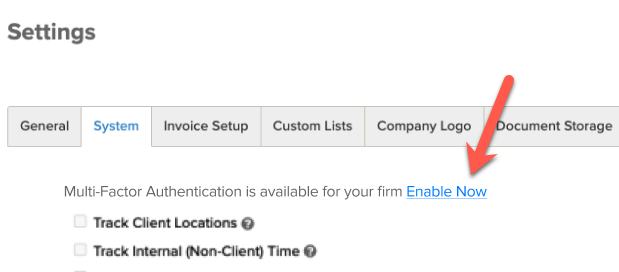 3. Confirm that you want to enable MFA by clicking "YES, ENABLE" on the pop-up modal. Please note that in order to turn off MFA, you must contact Bill4Time's Customer Support team.
What happens after I enable Multi-Factor Authentication for my firm?
The first time firm members log in to their Bill4Time account after MFA has been enabled, they will need to validate the email address (required) and mobile number (optional) that will be used for MFA. After entering their username, password, and firm ID, they'll encounter the screen below.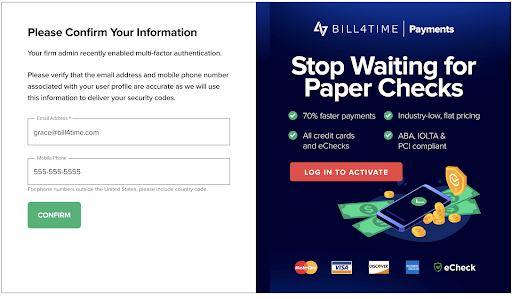 Please note that the email address and mobile number listed are retrieved from the user profile. Any edits made to the email address or mobile number at this step will also be saved in the user profile (My Profile > User Information).
Once firm members confirm their information, they're all set to use MFA!
How can I change the email address or phone number used for MFA?
The email address and mobile number used for MFA are set in the user profile.
Navigate to "My Profile"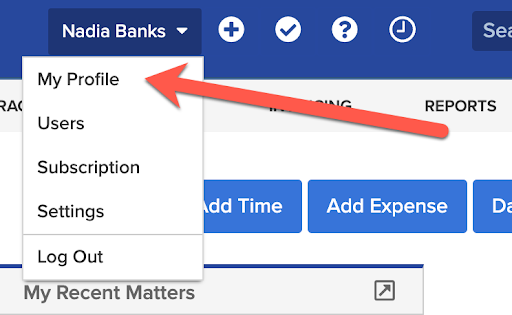 2. Click "Edit" to edit your information

3. The Email and Mobile Phone fields are used for MFA. Edit as needed!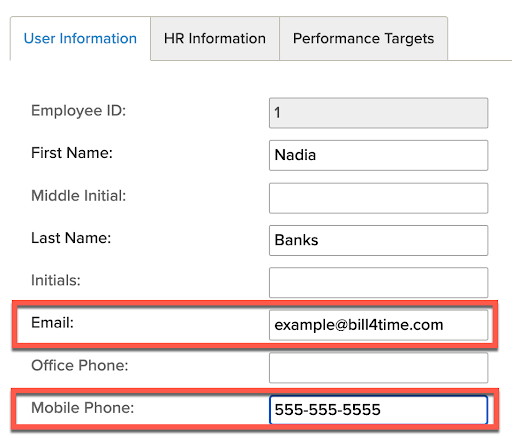 Can I turn off MFA for my firm?
To protect your firm's security, Bill4Time does not allow you to turn off MFA within the Bill4Time application. If you'd like to turn off MFA for any reason, please contact our Customer Success team at support@bill4time.com.