If you would like send invoices through our system the first step is reviewing your contact emails. After that you are able to send your invoices either manually or automatically. Keep reading below for additional information about configuring these options.
---
UPDATING YOUR EMAILS
If you would like for contact emails to be auto-populated in the "To" field of your invoice(s), you will want to update the "Email" field within the Client in the Client Details tab or the "Email" field within Project/Matter Details tab with the recipient email. The system will allow for more than one email in this field if emails are separated by a semi-colon(;). This will allow you to easily send to multiple recipients.
If you have an Email contained in both the Client level and at the Project/Matter level in the "Email" field, the Project/Matter level will override the Client "Email".
Please note: The "To" field is the only field that allows for recipients to be Invited to the Client Portal with the checkbox at the bottom of the screen. The CC and BCC field email recipients are not invited to the Client Portal.
---
SENDING INVOICES MANUALLY
There are two areas where you can manually send invoice the emails out of the system:
From the Invoice Detail screen once the invoice is finalized, at the top right you will see the "Email" button.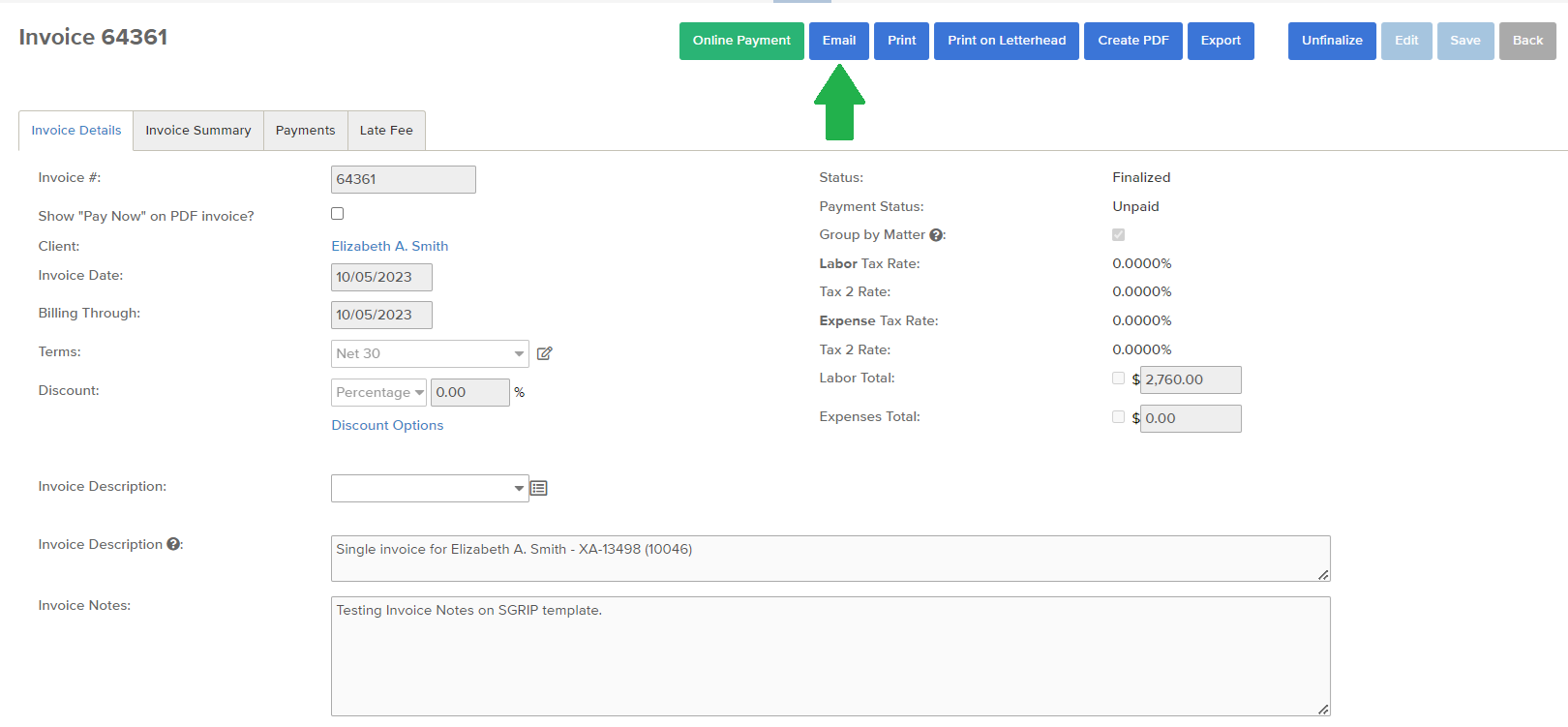 On the main Invoicing screen next to a Finalized invoice, you can click the envelope icon next to a finalized invoice. (NOTE: If the envelope is grayed out, that invoice has previously been emailed)

With either scenario, you will see a dialogue box similar to the one you see below.
You will see that several fields will be filled out for you already. Please make sure all fields are correct and enter a message in the "Body" if you'd like. Once you are done, click the Send button.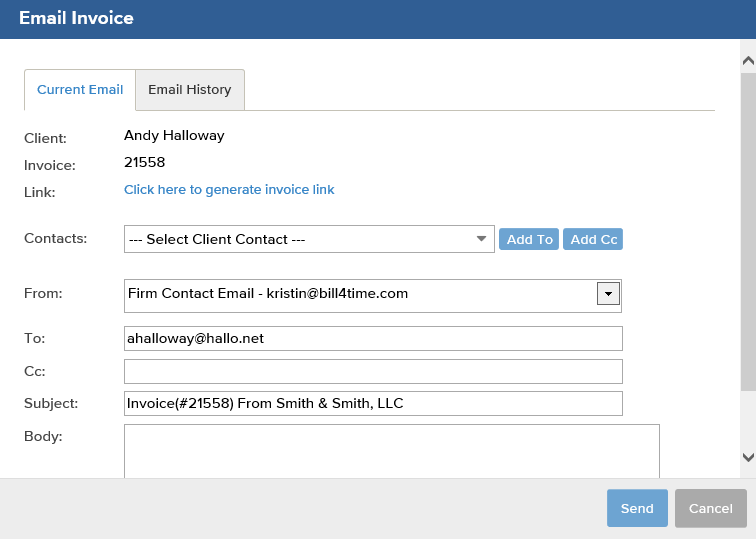 ---
SENDING INVOICE AUTOMATICALLY
If you have "Send Automatic Invoice Notification Emails" enabled in your Payments & Client Portal tab in Settings - you can automatically email out your invoices. You must be a System Admin with Firm Settings access to adjust or check this setting.
To review and enable this setting:
Click on your name at the top of the screen
Click Settings
Click on the Payments & Client Portal sub-tab
If you have invited clients to your Client Portal and those contacts have accepted their invite, toggling this setting to on - will automatically send their invoice to them upon invoice finalization. Click here to learn more.