Before you begin using the new statements feature, you'll need to configure your Statements, which can be done from the settings tab.
From Settings (Statement Setup) you can choose the information that will be displayed on your statement header. You can also define your preferred email settings if you wish to email statements directly to your clients.
To get started, please go to Settings and then select the "Statement Setup" tab.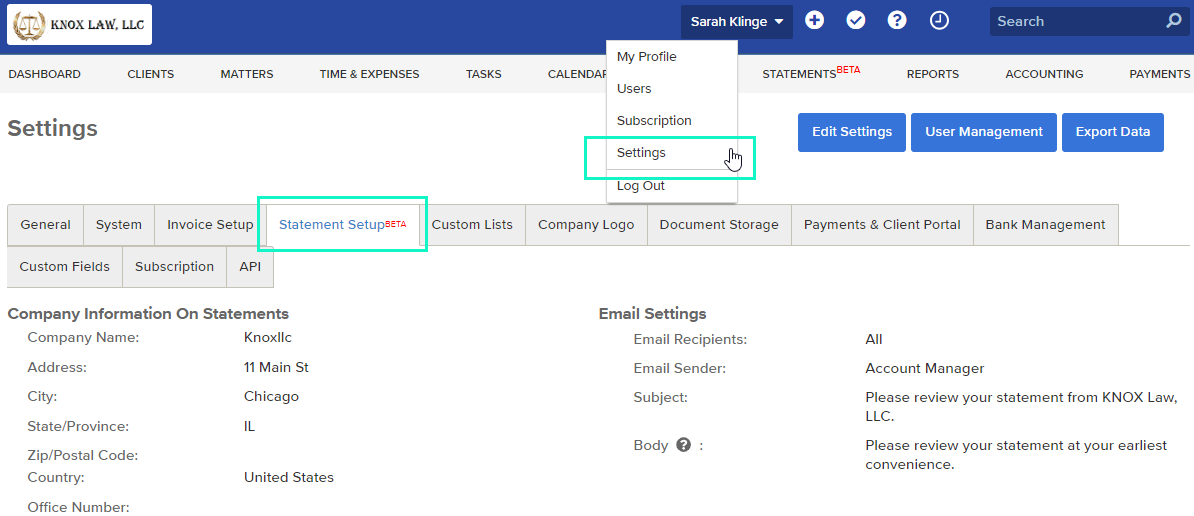 Edit Statement Header
The "Company Information on Statements" section allows you to customize which data fields you would like to display on your statements.
Options include - Company Name, Street Address, City/State/Zip, Country, and Phone number.
Email Settings
The 'Email Settings' section allows you to configure the email delivery method for all statements.
You have the flexibility to designate both the recipients and sender for the statement email distribution

.
All emails can be found for each client or matter within the respective 'Details' section.

Email Recipients :

Client Email
Primary Contact Email
Matter Email
All the above

Email Sender :

Current User
Firm Email
Account Manager



Subject and Body:

The subject and body can be customized in this section, which will serve as the default when sending multiple statement emails simultaneously. Additionally, you can opt to modify both the subject line and body each time you send an individual statement via email directly in the modal from within the Statements views.