If you are on Bill4Time Legal Pro plan or have the Enterprise add-on, you will have access to use the Cover Letter feature to add to your invoice template.
To setup a Cover Letter follow the steps below:
Top right, click your name and select Settings.
Click on the Invoice Setup tab.
Click the clipboard icon for the desired template or create a new template
Go to the Cover Letter tab and check the "Include Cover Letter" box
Create a title for your cover letter and scroll down to fill in the desired text.
There are many advantages of having the cover letter setup for your account and you can customize to pull in the exact data you need to show on the invoice.
On the right side, you will see the various fields you can pull onto the invoice. Say you want it to pull your client and project name, you can choose between these fields which will then add to the text to the left.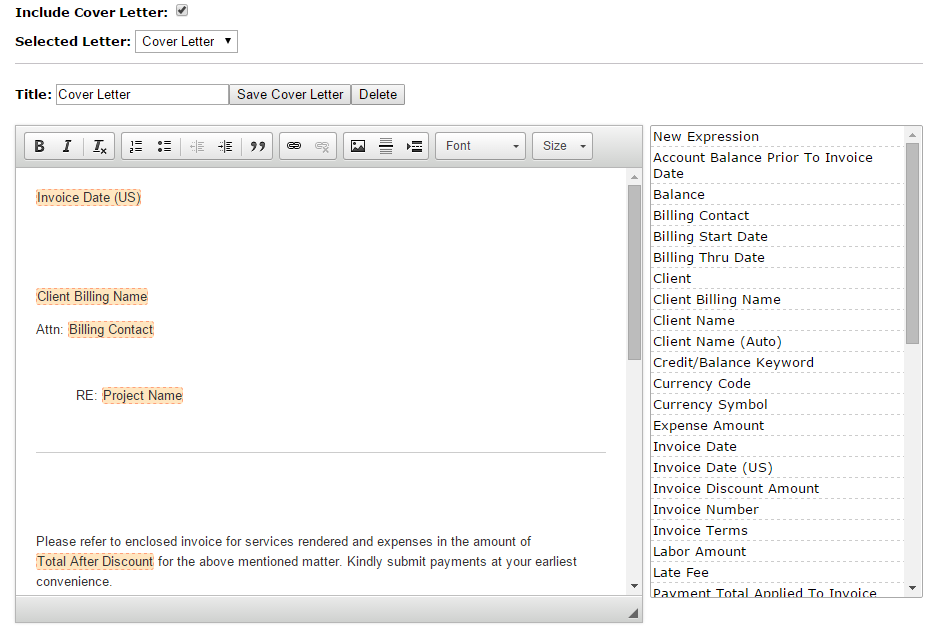 NOTE: Once you've added the necessary fields and text you need make sure to click "Save Cover Letter" button next to the title of the cover letter, then click Save at the upper right to save the template changes. This will then allow the specific Cover Letter to be available for any new template you add or edit.
Please see below for attached PDF of Invoice example with Cover Letter.