Bill4Time is regularly releasing new features so firms and other companies can better manage their time and focus on what's important for their business. However, we are always looking for feedback for our new features before they're released for public usage. If you'd like to take advantage of this, then you will need to enable the Beta Access Program for your account.
Enabling the option to 'Participate in Beta Access' will cause the following new features and changes to appear in your account. Here's how to enable this feature in your Firm Settings: (Note: You will need the correct permissions to enable this feature.)
Click on your name on the upper right. Select Settings on the small drop-down menu that appears
Locate the System tab and click on it.
To edit the fields you see in the System tab, click on the blue Edit Settings button.
Place a check mark to the left of "Participate in Beta Access."
Click Save at the upper right.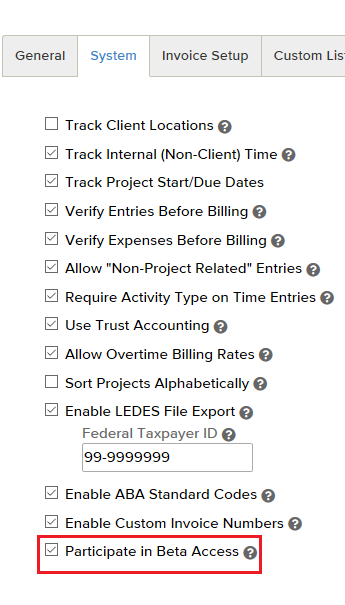 You should now be able to test features that are currently in Beta and you'll be able to submit feedback on them by contacting Support.
Currently in Beta:
Notifications - Notifications let's you receive an e-mail alert whenever a client's balance or total billable hours exceed or fall below a certain threshold, when Trust balance falls below a certain threshold, and others! For more information about how to setup and use this feature, please reach out to Support and we'll be happy to provide an overview of this beta feature.