You can now track evergreen retainers in Bill4Time! This feature allows you to set a minimum trust balance agreed upon by you and your client that will be incorporated into the invoice subtotals when you generate your invoice. If your trust balance is lower than the agreed upon amount, the invoice will display the amount required to replenish your trust balance to the agreed upon minimum amount and add the amount to the Balance Due of the invoice.
Note: This feature is only available for Legal Plans.
To enable this feature:
You will first be turning on the setting within your template so that you can view the feature on your invoices:
Click on your name and click on Settings.
Click on the Invoice Setup tab.
Click the clipboard icon for the desired template.
Scroll down to Options.
Check the box next to Show Retainer Replenishment Balance.
And click Save.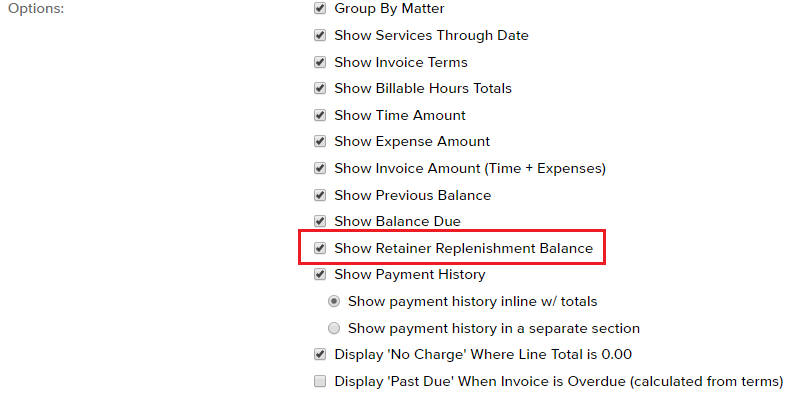 Once the template setting is enabled, you will then move to adding the minimum amount to your Client or Matter level so that your invoice can begin calculating the replenishment amount: 
Click on the Clients or Matters tab.
Click on your desired client or matter.
Click on Edit within that client or matter.
Then enter the amount in Minimum Trust Balance.
And click Save.

Now that you have entered your balance for your retainer, next time you bill your client and if their retainer balance is less than what was agreed the invoice will as below:
You will see your Invoice Amount
Then your Previous Balance 
Then your Minimum Trust Balance which is the balance you entered on the Client or Matter level
You will then see what the Current Trust Balance is after any payments from trust was received
Then Replenishment Amount which is the difference of what is needed to bring the retainer back to the minimum balance
And last you will see Balance (Amount Due) which will take the Invoice Amount + Previous Balance + Replenishment Amount = Balance (Amount Due)