Did you know that signing up for an annual subscription provides a 10% discount on our standard monthly pricing? Keep reading for more information about our annual subscription and how to take advantage of this offer!

HOW TO CHANGE TO ANNUAL BILLING
If your Bill4Time Subscription is currently billed on a monthly basis, you can convert to an annual pricing plan by following the steps below:
Click your name at the top right of any page and select Subscription in the drop-down menu.
At the top of the page on the left, select "Yearly Plan" instead of "Monthly Plan".
Click on the blue "Upgrade" button below your preferred plan, to lock in this change.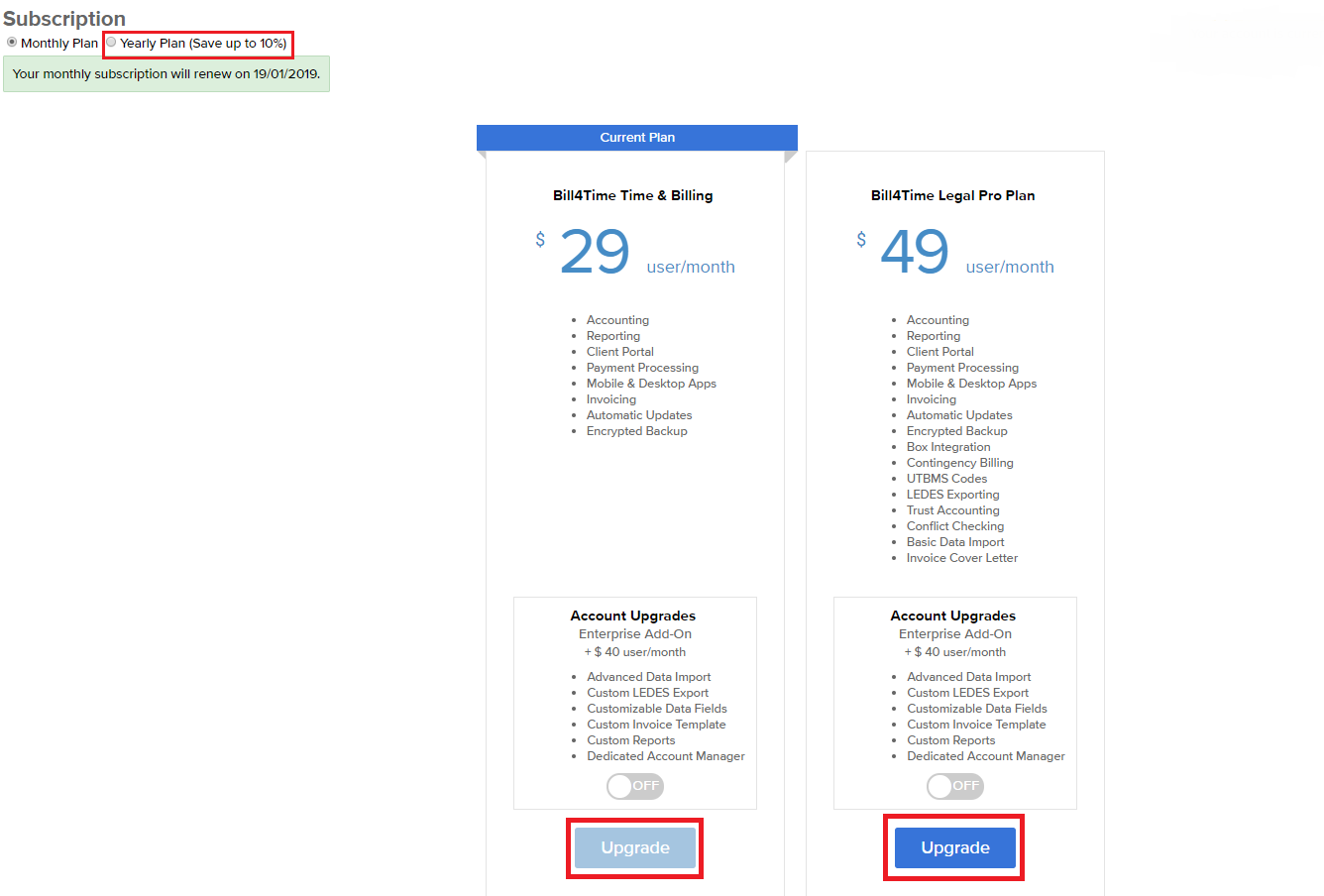 WHAT WILL MY SUBSCRIPTION BILLING DATE BE?
When switching to annual billing, you will be billed on your next billing date based on the current number of active users in your account. So for example, if your monthly bill was issued on 03/01/2017 and you switched to Annual billing on 03/12/2017, your annual billing will take effect as of 04/01/2017 - 04/01/2018 instead.

ADDING USERS ON AN ANNUAL SUBSCRIPTION
If you add a user in the middle of your yearly contract, you will be charged a prorated amount for the remainder of the contract for the new user.


DISABLING USERS ON AN ANNUAL SUBSCRIPTION
If you disable a user in the middle of your yearly contract, you are still responsible for the charges that have already been incurred for that user during your annual billing cycle. Please refer to our Refund Policy. When your annual subscription renews, you will only be charged for users that are currently active in your account.

SWITCHING BACK TO MONTHLY BILLING
If you'd like to switch back to monthly billing, instead of annual, you will need to contact our support team to assist you with making this change. Please call 1-877-245-5484 or email us at support@bill4time.com and a support agent will coordinate with our billing department to help initiate this change for you.

CANCELING YOUR ANNUAL SUBSCRIPTION
Please note that you are responsible for all charges incurred, as your annual subscription is billed upfront in order to lock in pricing and obtain the 10% discount. As such, we do not offer refunds for annual subscriptions that are canceled during the subscription. For more information, please review our Refund Policy & Terms and Conditions, located here: http://www.bill4time.com/refund-policy/